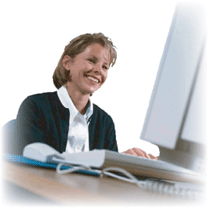 Massage Therapy Online Training: For The Public
Massage therapy online training programs provide an alternative, convenient way to learn massage therapy from the comfort of your home. Researching massage schools and courses on the internet is great!
Most courses offered on-line will only cover the history of massage, and briefly describe the various strokes associated with massage. Most will require hands-on practice.
A massage routine may be included in some online courses; although it will be very basic and you will want to revise it so that it is comfortable and specific to you.
Massage therapy online training courses are usually self-help courses that give you the general basics of massage therapy. They are typically for general interest only and not intended to diagnose, treat, cure, or prevent any disease. They are commonly not government or provincial /state approved courses – and you need this approval to obtain your registration or license to practice therapeutic massage.
Massage Therapy Online Training: For Students
Online massage therapy training may cover the more "academic" courses that just require reading as compared to the hands on component of treatment courses, anatomic palpation and remedial exercise.
You must remember, this type of profession requires an extreme amount of hands-on experience in order to excel. The knowledge you gain from physically working on clients and other students is vital. The best experience you can possibly gain is through hands-on training. It will help you develop confidence in developing your own treatments and in your touch and assessment.
Each province / state will have its own regulations and policies regarding massage therapy. You should check your provincial or state requirements to find out whether they recognize online courses.
There are also online massage therapy products you can buy on the internet to help you with anatomy, physiology etc.
Massage Therapy Online Training for Massage Therapists
If you are already a certified or registered massage therapist, taking advanced courses and additional training on the internet is a great way to expand you knowledge and for this, the internet is a very useful tool.
Massage therapy online training helps current licensed or registered massage therapists maintain their professional status by offering downloadable continuing education units.
If you are a massage therapist interested in online massage therapy courses, advanced techniques and other tricks to help you with your massage therapy practice then subscribe to "PALPATION" Touch for Healing newsletter.